#TSQL2sDay: Resolutions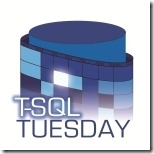 For this month's T-SQL Tuesday, Jen McCown asks:
So tell us: what techie resolutions have you been pondering, and why?  Are you heading for a certification? An award? Are you looking to pick up CLR because that guy at the Summit said it's "bitchin'"? Go crazy…
I've already covered a lot of my techie resolutions in this post, but here's a recap, with some expanded thoughts:
I vow to learn something new every month.  I've already started on this one, but I need to keep working on it.   For example, I'm working on XML and XQuery this month; next month, I'm thinking SSIS.
I vow to be more involved in the technical community.  I've slipped out of tweeting (mostly because it's blocked on our corporate network); I will do more.  I also want to read more blogs, as well as do a LOT more blogging myself.  For example, I plan to participate in every T-SQL Tuesday for 2011.  I also plan to present at least 6 times this year.
I will earn my MCITP: Database Developer certification this year.  Been meaning to do it; just haven't invested the time to do so.
On a personal note, I want to tackle a few more technical projects that have been hovering over my head:
I want to do more with pictures and videos.  I have a nice digital camera, and a nice Flip video camera, but I don't do squat with them.  I'm horrible about leaving them behind when I travel; I will use them as needed.
My fiancée is an iPod user (like 90% of the world); I am not (I have an Archos).  Merging our music into iTunes is not going to be fun (especially since I've never used it), but in the long run, it'll be the right thing to do for us.
I want to work smarter, not harder, so I can play more.  There's lots of little services out there (like Remember the Milk, Yodlee.com, Google calendars, etc) which will help me manage my life on the move (shuttling between my apartment, my fiancée's house, and my office).
Short, sweet, but at least it's submitted 🙂

January 11, 2011 ·

stuart ·

No Comments


Posted in: SQLServerPedia Syndication, The Social Web, TSQL2sDay