My good Karma (Go) for the day
A couple of weeks ago, I briefly mentioned the Karma Go, and how I intended to use it to stay connected at the 2015 PASS Summit in Seattle. Â The good news is that the little fella worked great inside the convention center; the better news was that the convention center had upgraded its WIFI capabilities, so my Go was unnecessary. Â However, something else has recently happened that may be helpful to people closer to home;Â Karma has recently announced that a monthly unlimited plan is now available for the Go. Â Speed's capped at 5MB, which isn't super-fast – unless you live in Jackson County, Georgia.

You see, here in Jackson County, we have only one option for broadband: Windstream DSL. Â When it works (as it has for me), it's fine; I have the 12MB package, which is OK for working from home. Â  If I have an outage, I fall back to my Go and I'm covered (that's happened twice since I got the device in August). However, a lot of people in Jackson County pay for a service that is unreliable (to say nicely); quotes pulled from a Facebook group dedicated to Windstream issues in the county:

"Really tired of the constant outages. I'll reset and the Internet comes back in for 2 minutes then goes right back out. It's just awful!"

Or sometimes it works, but at speeds far less than what you'd expect

"Service today at the office [in] Pendergrass…. [(0.57 MB down/.42 MB up)] makes life interesting trying to get business done… Thank God my Ipad is ATT. "

Or sometimes they don't show up at all
"I moved. Windstream said they'd be here today. I called at 4:30 to ask when since they haven't called. The service rep said we were next in que and it is now 7:30. No show. How typical. Lies and the runaround. Windstream is beyond incompetent."

Windstream was hit with a $600,000 fine by the Georgia Governor's Office of Consumer Protection, and while the service has improved for some, many of my neighbors are still being overcharged for a service they're not receiving. Some folks in the group had read about the new unlimited plan for Karma Go and wondered if it could be used to replace Windstream. The blog announcement for Neverstop includes this caveat:
"Can I ditch my home internet provider?

Neverstop isn't meant to be a replacement for your home internet (yet). It's a way to have internet anywhere, anytime. Speeds on Neverstop aren't fast enough to be comparable to a wired home internet connection. It's not practical for most people to use Neverstop as their only internet connection, but if you're a light user and looking to cut down on costs, you're welcome to give it a try. Lots of us at the Karma office are already using it as a replacement for a phone plan. Who needs minutes and texts these days?"

I thought I would help people decide for themselves; I asked the Facebook group for general locations in Jackson County where people were interested, and I headed out.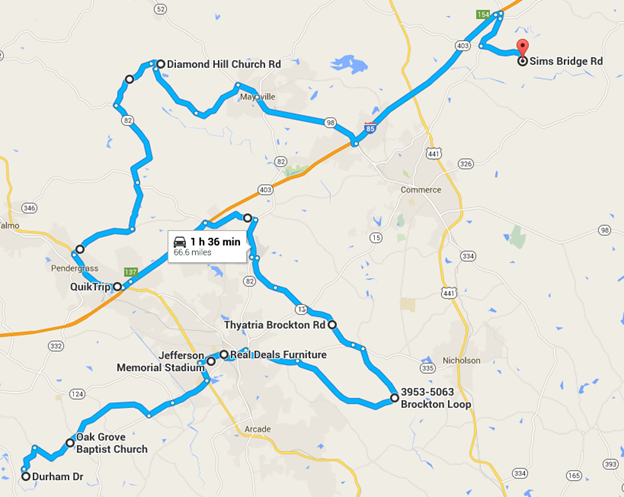 Here's my lessons learned:
Jackson County, Georgia is bigger than I thought.

I had originally allocated an hour for my trip, but it took nearly 2 (and the starting point above is not near my house). The area is semi-rural; there's lots of little suburban areas and towns surrounded by farms and ranches. I-85 runs through it, so cell coverage (even Sprint) is pretty good. I streamed music over the Go the entire trip, and had no hiccups; everywhere I stopped (and whenever I glanced at it), I had at least 2 bars of signal, and usually 3. In hindsight, I probably should have streamed video as a test, but overall, I think it was a fair representation of coverage.
Speed tests were good (mostly).

Below is a chart of my findings, complete with download and upload speeds. I used two different speed tests, and got comparable results from both, so I'm listing the worst speed for each spot check.
| | | |
| --- | --- | --- |
| Location | Download (Mbps) | Upload (Mbps) |
| Durham Dr, Hoschton | 5.36 | 2.50 |
| Oak Grove Church, Jackson Trail, Hoschton | 4.13 | 4.22 |
| Jefferson Memorial Stadium, Jefferson | 4.93 | 2.40 |
| Real Deals, Jefferson | 0.95 | 1.72 |
| Brockton Loop (Far Side), Nicholson(?) | 5.39 | 10.37 |
| Thyatria Brockton Road, Jefferson | 4.00 | 6.12 |
| QuikTrip, Pendergrass | 2.99 | 5.14 |
| Diamond Hill Church Road, Maysville | 2.46 | 2.87 |
| Sims Bridge, Commerce (Banks County) | 5.61 | 3.66 |
 
As you can see, the Karma Go on the Sprint LTE network provided broadband speeds throughout my journey, but they weren't always high speeds. The finding near the Real Deals store concerned me, but it may have been related to where I was parked. Overall, it may be worth investigation as a replacement for home internet services within certain contexts (explained below).
Possible Pros for Karma Go – Neverstop plan

If you're a Jackson County resident and looking to escape from the Windstream experience, the Neverstop plan has some benefits that may make it worth considering.
They offer unlimited internet connection for $50/month, capped at 5Mbps downup (I think it's 5Mbps both ways).

The plan allows for three devices to be connected to the Internet at a given time; if a fourth device connects using the plan, one of the other ones will be disabled until the number gets back to 3.
They offer a 45 day return period for the device, which retails at $149. I don't think that refund covers any purchased data, but if you feel like the device CAN'T replace your home internet service, will work as a reasonable backup, they let you swap plans at any time.
They also have a referral program; here's the link to my code: https://yourkarma.com/invite/stuart4873. If you decide to purchase the device, you get $10 off, and I get a $10 credit.
Possible Cons for Karma Go – Neverstop plan

Here's the possible problems that I see with using Karma Go as a replacement for your home broadband service:
LTE technology is based on cell service, which is usually less stable than wired connections. Given the instability of Windstream, however, I don't know if that's true or not. My single sample today may not accurately reflect coverage at your home; that's why I'd recommend trying it for 30 days before dropping your old service.

A hotspot is NOT a router. This device allows you to connect a computer or other device over WiFi to the Internet, but not to each other. In other words, your devices won't see files on each other directly; if you've got advanced networking needs or a lot of devices, this may not be a great fit.

A perk of this is that each device that's connected gets its own 5Mbps pipeline; that pipe is not shared among your devices.
You may be able to purchase a router that allows you to create an internal Wifi network for your devices, and then connect over another Wifi channel to the hotspot (like this one). You'd get connectivity between your devices (and override the 3 devices connected to your Karma Go rule), but they'd all split the 5Mbps pipeline.

The company itself is young. Karma's only been around for a few years, so there's no telling how reliable they are. They've had some shipping problems and communication problems of their own, but that's part of being a startup.
Final Thoughts: Should You Buy It?

If you're unable to get reliable service from your provider, and you have good coverage from Sprint, and you have a limited number of network devices, it's probably worth your time to investigate the Go as a replacement. Again, a 45 day return period gives you a lot of time to put it through its paces. I love it as a backup option (the Refuel plan), but it sounds like many of you should give it a whirl as a replacement.

November 11, 2015 ·

stuart ·

No Comments


Posted in: Blogging is FUN!, Gadgets