SQL In The City Atlanta, Oct 11, 2013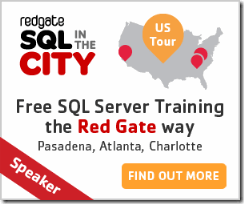 Just a quick note to say that I'm super excited to be presenting at the Red Gate SQL In the City event in Atlanta this year; I'll be covering some of their development tools (many of which I use daily).  As far as I know, there are still some seats left, but I wouldn't count on them being available too much longer.
It's free, and you'll get a chance to hear lots of great topics presented by Grant Fritchey, Steve Jones, and Tim Radney, as well as me. Click on the image for more information, and I hope to see you there.

September 11, 2013 ·

stuart ·

No Comments


Tags: Red Gate, SQL Server · Posted in: Conferences, SQL Server, SQLServerPedia Syndication