#SQLSATATL simply rocked…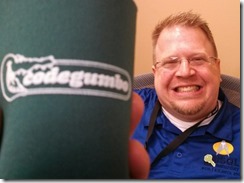 So, last Saturday, I went to the first SQL Saturday in Atlanta that I had absolutely no responsibility on the actual day of the event.  I wasn't an organizer, I didn't really even volunteer.  As a chapter leader for AtlantaMDF, I do have to go in and pay the bills later this week, but for the most part, I got to walk around and revel in the day. 
And it was a good day.  The team (led by Geoff Hiten) pulled off another great event; 555 people attended the event, and there were some AWESOME sessions throughout the day.  I was in the 9 am slot, and my session on Biggish Data went well, even if (as usual) I had WAY too many slides.  Speaking of slides, you should be able to download the deck from the SQLSaturday 220 schedule (as well as many other great presentations).  I did have to slip out early since this weekend was my weekend with the kids.  My current youngest (Grace) had to get service hours for beta club, so she got to hang out with me, but I needed to get back home early to hang out with the oldest one.
So what was cool?  What did I learn?
The number one highlight for me was watching Louis Davidson demo Red Gate's SQL Monitor tool, and he chose one of my custom metrics to use in the show.  I respect Louis a lot, and it made my day.
I learned that I need to cut out about 10 slides out of my presentation.
I had a great conversation with a few people about table partitioning and performance gains; I think there's enough material for a future session explaining why you will or won't see performance benefits from partitioning.  Hmmmm….
I had another excellent conversation with Robert Cain regarding the growth of SQLSaturday's, and bounced around a few ideas about moving to a mid-tier model.  Kind of like what SQLRally was supposed to become, but different. 
I also got to hang out with Andy Leonard.   He and my Grace had a good time discussing movies (Where's my super suit?).
Mostly, I just got jazzed about being back in the #sqlfamily.  Hopefully, I can build off that momentum, and start blogging again.   Granted, the next few months are going to be personally interesting, but I need to make time to share again.

May 20, 2013 ·

stuart ·

No Comments


Tags: AtlantaMDF, SQLFamily, SQLSaturday · Posted in: Conferences, SQLServerPedia Syndication, The Social Web